Verdict
Early signs show the PSE tag has potential. Performance is okay but the chassis and steering are a bigger draw. We like the looks and much of the interior, but in a £56k estate the compromised practicality is annoying.
Mileage: 2,257
Economy: 44.7mpg
Once, if you wanted a fast Peugeot, it would have been powered solely by petrol and relatively affordable. Plus – given that it probably had a GTi badge on its boot – you knew that, in the most part, it would ride and handle well. Peugeot made a return to form recently with its 208 and 308 GTi hot hatchbacks, which makes it all the more interesting that it's confined 'GTi' to the history books – and I for one am sad at that.
However, I didn't shed a tear for long, because the future is bright. It's acid green, in fact, because the accents on this sleek 508 SW estate signify its halo status as a Peugeot Sport Engineered model – the French brand's new tag for its fast offerings.
And green is appropriate, because the PSE is a plug-in hybrid, with the company using electrification to deliver performance, but with less of an impact on the environment as a result – or so the theory goes.
In the coming months, then, that's what we're aiming to find out: whether this 508 SW Peugeot Sport Engineered, to give it its full name, delivers not only on the brief as a performance Peugeot for the modern era and the brave new world of electrification, but also on its £55,830 price tag. Of course, you're paying for a combustion engine, a battery and electric motor, but the fact is, a figure as high as that puts it in the same pool as BMW's M340i xDrive Touring and Audi's S4 Avant, turbocharged six-cylinder petrol and diesel models respectively, with genuine premium appeal and heritage.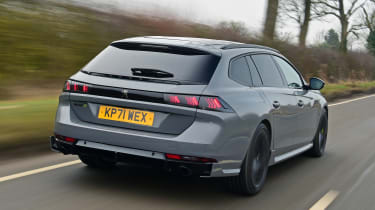 But this 508 PSE is also representative of Peugeot's rebrand to push upmarket, so it's not just on performance that it needs to deliver, it also has to offer high quality.
Having done more than a thousand miles in the car since I took delivery last month, I've actually come away impressed. PSE, GTI, it doesn't matter really, as long as the car delivers what you want it to. And while the 508's internal-combustion engine isn't an all-time great, it's punchy enough and is supplemented by a hefty boost from its electric motor that makes this the most powerful Peugeot model ever to go into production. With 355bhp and a total of 520Nm on tap, it's strong – when you've got the electrical assistance.
The 0-62mph sprint takes 5.2 seconds, and I get around 20 miles from a charge in the current wintry conditions. But when the battery is depleted, the petrol engine has to work that bit harder to carry the hybrid system's extra mass around, and it starts to sound a bit coarse.
Even when the battery is nearly depleted, the first few yards as you pull away are often done on electric power. But then the petrol engine cuts in and the transmission struggles to smooth out the switch between power sources, with a laboured pause as it shuffles the two methods around.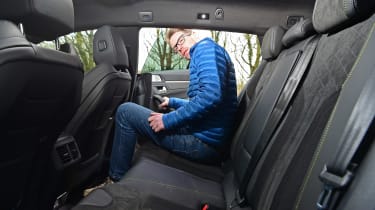 At least the steering is sweet (one of the nicest set-ups in any modern hot Peugeot) and the ride acceptable, despite the chunky  alloys. Big bumps do cause thumps, but otherwise it's relatively controlled.
Other practical considerations have materialised, too. I'm still not sold on the Peugeot i-Cockpit set-up, but it's the location of the USB points and wireless charging pad that's more annoying. You need an extra joint in your wrist to access them.
At least Peugeot has given some thought to life with a PHEV; a storage area for the charging cable under the boot floor stops the load space from getting cluttered up.
I like the massaging seats too. They're comfortable, but having that functionality helps on a long journey. However, a few longer trips recently mean I've not charged up as much as I'd like, relying on petrol power alone. I'm still averaging more than 40mpg though, which is good. Hopefully in the next few weeks more local journeys will give us a chance to maximise this plug-in's efficiency potential. We shall see.