Pros
Smooth
Practical
Cheap to run
 Cons
Dull to drive
Poor infotainment
Limited towing ability
Large estate cars have largely disappeared from top-selling lists, but smaller estate models based on popular family hatchbacks have remained more popular. Even against the onslaught of crossovers and SUVs flooding the market, models like the Toyota Corolla Touring Sports can prove enticing, and for good reason. 
Being lower to the ground and often lighter than SUVs, small estate cars are often more fun to drive and cheaper to run, all while offering just as much boot space. Some versions like the Touring Sports Trek even get a rugged look and handy features like roof rails for mounting bikes and roof boxes. It's a hotly fought class, with rivals including the Ford Focus Estate, Volkswagen Golf Estate and Skoda Octavia Estate, as well as the Hyundai i30 Tourer.
The driving experience has improved relative to the Corolla's predecessor, the Toyota Auris, thanks to a new chassis and, while it's still comfortable, the Touring Sports offers keen drivers a little more responsiveness too. The entire Corolla range is hybrid only, with either a 1.8-litre or 2.0-litre engine alongside an electric motor. A 1.2-litre turbo petrol was offered at launch but was withdrawn from sale due to low demand. The 1.8-litre hybrid setup will be familiar to Prius owners; it's bulletproof and capable of up to 62.7mpg in the Corolla. The 2.0-litre offers noticeably more punch but it's pricey and claims nearer 56.4mpg.
With its hybrid powertrain, the Corolla Touring Sports has few direct competitors. An increasing number of estate cars feature a plug-in hybrid powertrain, such as the SEAT Leon Estate, Kia Ceed Sportswagon and BMW 330e Touring, but these tend to be more expensive than the Toyota. It's a spacious, low-emission car that doesn't need to be plugged in, which adds to its appeal for buyers who can't or don't want to recharge from a socket.
The Corolla estate has found favour with company car drivers, private buyers and highway maintenance teams, so much so that there's now a commercial version with the rear seats removed.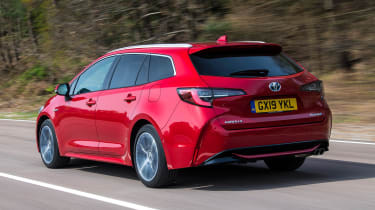 Due to the hybrid technology on board, the Touring Sports can't quite match the Ford Focus Estate for outright space but with room for four adults to get comfy and a 581-litre boot, it's not too far behind. Safety is backed up by a five-star Euro NCAP score and the Corolla came 32nd out of the top 75 models in our 2021 Driver Power survey, so ownership should be a breeze.
MPG, running costs & CO2
The Toyota Corolla Touring Sports should be quite a bit cheaper to run than diesel rivals
Just like the Toyota Corolla hatchback, the Touring Sports estate is only offered with a choice of two hybrid powertrains. The more affordable 1.8-litre hybrid (shared with the Toyota Prius) is likely to be the most popular, and it's also around 5mpg more economical. It manages official figures of 55.3 to 62.7mpg depending on trim level, while CO2 emissions are 103-115g/km - virtually matching the Corolla hatchback. This results in a low Benefit-in-Kind (BiK) rating for company-car buyers, while an equivalent diesel Volkswagen Golf Estate would cost far more.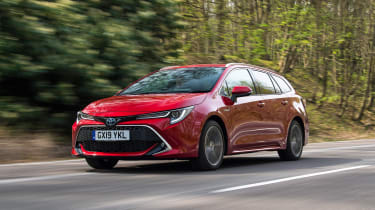 Upgrade to the more powerful 2.0-litre hybrid and fuel consumption is up to 50.4 to 56.4mpg, with CO2 emissions from 112-127g/km depending on trim. It's a fairly small difference, but you'll spend slightly more at the pumps, along with slightly higher insurance costs. The entry-level Icon model sits in group 15 (out of 50 bands), while the GR Sport version with more power sits in group 20. Every version of the Corolla Touring Sports will cost the discounted rate each year in (VED) road tax. 
In 2021, Toyota made its warranty cover even more generous. Every new Toyota can now come with up to 10 years or 100,000 miles of cover, which is unmatched in the car industry. One of the only stipulations is that you need to have your car serviced at a main dealer. Used cars that fall within the age and mileage criteria get a year's top-up warranty with a main dealer service.
Engines, drive & performance
It's not as sporty as rivals but hybrid versions are smooth and relaxing
The latest Toyota Corolla handles competently but its CVT automatic gearbox and fairly soft settings means it still isn't especially fun to drive. Still, the chassis is surprisingly composed for a Toyota estate, taking tricky roads in its stride and keeping most vibrations out of the interior. Despite its 20mm increase in ride height, the Corolla Trek feels just as good to drive, but with the same front-wheel drive as the regular car, it offers little real advantage off-road aside from extra ground clearance to negotiate rocks and ruts. The combination of a petrol engine and electric motor still make most sense around town, where the car feels smooth and relaxing, with bursts of electric driving and silent waits in traffic reminding you of the fuel you're saving. A GR Sport version is also offered, which is similar in style to the Ford Focus Estate in ST-Line. There are sportier alloy wheels and a body kit, but this is something of a sheep in wolf's clothing, as there are no mechanical changes to spice up the driving experience.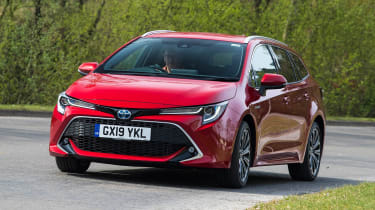 Toyota has two decades of experience in making hybrids, and the switch between electric and petrol propulsion is almost seamless on the move. The 2.0-litre with 178bhp is smooth under acceleration and can get from 0-62mph in 8.1 seconds but rarely feels quite so fast in normal driving. There are steering wheel mounted gearshift paddles that go through 'virtual' gears programmed into the CVT automatic but we preferred leaving it to its own devices. It's one of the best CVT gearboxes available, keeping revs low most of the time so the engine rarely feels strained. 
With slower acceleration, the 1.8-litre model is quick enough to keep up with traffic but it's less adept at overtaking and strenuous country drives. Acceleration from 0-62mph takes 11.1 seconds but it feels fairly punchy at speeds under 50mph, with acceleration tailing off quickly beyond this. If you're gentle with the throttle it's possible to cruise up to 30mph from rest using just the electric motor, and this powertrain is best driven in a laid-back way.
Interior & comfort
The interior is solidly built and attractive but the infotainment system is a notable weakness
The hybrid powertrain helps the Corolla Touring Sports feel very refined during urban driving, and its soft suspension is better than that of the Ford Focus Estate in smothering bumps. If you want a comfortable and stress-free family estate, the Toyota is hard to beat.
Interior quality takes a noticeable step forward for Toyota too, with lots of padded materials and less scratchy, brittle plastics on show. It still isn't quite on the level of a Skoda Octavia Estate or a Golf Estate but this is far from a deal-breaker. When the Corolla first launched, its central infotainment system was a long way off the best in class, but it's now been updated so you can at last use Android Auto or Apple CarPlay, along with familiar apps like Google Maps and Spotify.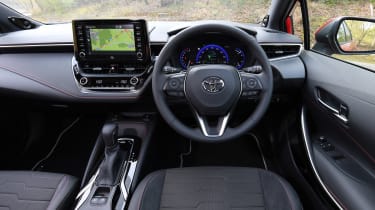 Trim levels consist of Icon, Icon Tech, Design, GR Sport, Trek and Excel with 16-inch alloy wheels, dual-zone climate control, LED headlights and a seven-inch display with a rear-view camera as standard. Icon Tech adds sat nav, front and rear parking sensors and voice recognition, while Design boosts the car's appearance with a set of 17-inch wheels. Convenience is also improved with folding door mirrors, auto wipers, privacy glass and LED fog lights. Excel adds luxuries like ambient lighting, 18-inch wheels, part-leather seats, upgraded headlights and keyless entry. 
GR Sport looks the most dynamic, as it's inspired by Toyota's racing division. It has model-specific 18-inch alloy wheels, styling tweaks inside and out, sports seats and a head-up display to make information easier to see on the move.
Designed in partnership with the bike brand of the same name, the Trek model is altogether more outdoorsy, with a 20mm increase in ride height, SUV-style bumpers and body cladding, keyless entry and a powered tailgate with hands-free opening.
Options include a contrasting paint finish for the roof, a JBL stereo system, panoramic sunroof and a Protection Pack with mudflaps, boot-liner, cargo nets and rubber floormats.
Practicality & boot space
Passenger space and luggage room shouldn't put off buyers
There's plenty of room in the front seats of the Corolla Touring Sports, although the fairly flat seats speak volumes about the sort of driving Toyota expects owners will be doing. Room in the back is average, so there's enough room for most occupants but taller passengers may find headroom is restricted.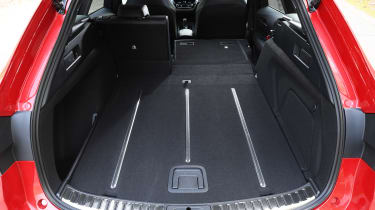 It's a similar story for the boot, which at 581 litres should be more than big enough for most families, without setting any class records. This is partly because the hybrid technology offered in most models robs the boot of some space. The rear seats split and fold 60:40, with handy levers just inside the boot to operate them. If you live in the countryside or own a dog, the Full Protection Pack is worth considering, adding mud flaps, a boot-liner and rubber floor mats. 
One thing to note, is that caravanners won't be well served by hybrid versions because of their limited 750kg limit for braked trailers. The now discontinued 1.2-litre petrol is better thanks to a 1,300kg towing capacity.
Reliability & safety
Toyota builds reliable and safe cars that tend to be hassle-free to own
Toyota is well-known for making reliable cars, and its hybrid models are garnering a reputation for being particularly robust and affordable to own. The Corolla is also a safe model to buy according to independent crash tests.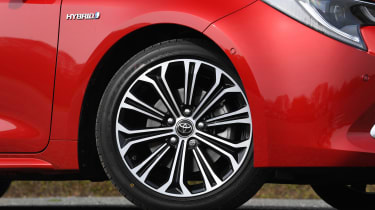 While the Corolla is an all-new model, it's a safe bet to say it should prove a hassle-free investment. It came an impressive seventh out of the top 75 new cars in our 2020 Driver Power survey, dropping slightly to 32nd in 2021, but still with a good score for reliability and build quality. Owners praised its engine and gearbox, along with its ride and handling. Running costs also impressed, but infotainment didn't receive such a high score
The Toyota Corolla hatchback was awarded a five-star rating by Euro NCAP, with a 95% score for adult occupant protection. This score should also translate to the Touring Sports, with identical standard safety kit designed to help prevent a collision, along with passive protection should it be unavoidable.