"The Volkswagen Golf R Estate is an incredible all-rounder, offering plenty of performance and practicality in one package"
 Pros
Good to drive
Very fast and powerful
Practical and easy to drive
 Cons
Engine is a bit dull
Interior quality could be better
Expensive to buy
The Volkswagen Golf R Estate is one of the most impressive all-round petrol cars on the market, as it has just about everything you could want in one place. If you're interested in driving, and don't mind paying a little bit more for a fun car, it's a fantastic option - albeit one that isn't quite as impressive as it once was.
The Golf R Estate that you can buy new is the Mk8 version, and it uses a lot of the same elements as the Mk7 car that came before. It has a similar 2.0-litre turbocharged petrol engine, four-wheel drive and a seven-speed dual-clutch automatic gearbox.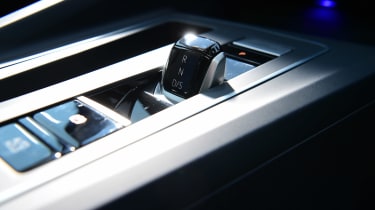 It has 316bhp and 420Nm of torque, so 0-62mph takes just 4.9 seconds - not bad for a car with plenty of space for the whole family and a big boot for buggies and bikes. This is the core of the Golf R Estate's appeal: it's a family car most of the time, but it has the performance of a sports car when the mood arises as well.
The Golf R Estate is part of the R range, which means you might also consider a VW T-Roc R or Tiguan R as well. These SUV models ride higher than the Golf, and they're not quite as sporty to drive, so if you're not dead-set on an SUV then the Golf R is an excellent alternative. It's priced to sit in between these two models, which is one of the car's few drawbacks: it's a little expensive.
Rivals that are actually estate cars as well include the Cupra Leon Estate and the Mercedes-AMG CLA 35 Shooting Brake. The Cupra actually uses the same engine and some other parts as the Golf R Estate, but has a more distinctive look. Since there's no Golf GTI Estate, the Golf R Estate is the main option for those after a fast Volkswagen estate car.
The engine is undoubtedly potent, with 316bhp, but it's also fairly efficient for a performance motor: it returns 36mpg according to official figures and emits 178g/km of CO2. Unfortunately it's not the most enjoyable engine to use, as it sounds dull and the fake engine noise played in the cabin doesn't help.
The automatic gearbox and four-wheel drive system also mean that it's incredibly easy to drive the Golf R very fast indeed. With the optional adaptive suspension fitted, it's able to take on bumpy B-roads with ease, and you can adjust the stiffness as you go so if a road is nice and smooth you can make the car even sharper in corners.
VW Golf R vs Audi S3 vs BMW M135i: which should you buy?
As with all other versions of the Mk8 Golf, the interior is something of a step down from the Mk7 version. The material quality is only acceptable, especially given the R's high price tag, but it's the fiddly, frustrating infotainment set-up that really makes it worse than before. 
It's well-equipped, though, and comes with sat-nav, Apple CarPlay and Android Auto, a 10.25-inch digital dash, wireless phone charging, three-zone climate control, adaptive cruise control and loads of safety kit as standard.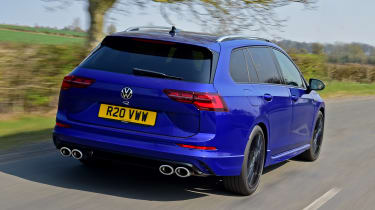 Practicality is a strong point as well, thanks to a huge 611-litre boot and rear seats that are easily able to fit adults in comfort. It's a very roomy car and since it has a lower stance than SUVs like the Tiguan R, it's easier to get in and out of and load items into the long, flat luggage area. 
You can read more about each key area below. In short, the Golf R Estate has gotten more expensive and is a bit less impressive inside than the previous version, but it still holds on to what always made it great: the mix of practicality and performance.
The Volkswagen Golf R Estate isn't cheap to run, but considering how fast it is, we still think it's very reasonable. The 2.0-litre petrol engine returns 36mpg and emits 178g/km of CO2, so while it's not ideal for company car buyers, it's not too bad. Cars with this kind of performance and a petrol engine are never going to be efficient, so over 35mpg is pretty good. 
You'll have to drive with care to achieve those figures, but the automatic gearbox has several driving modes to help save fuel when you want to. It's also excellent for insurance costs, as it sits in group 32. Many performance cars that are able to get from 0-62mph in under five seconds - which the Golf R can - are in insurance groups closer to the maximum of 50.
The only sore point in terms of running costs is the actual purchase price. It's a rather expensive car now, and previous Golf R models stood out as being great value for money. This Mk8 model now feels a little pricey, but you may be able to find appealing finance deals that help make it more affordable.
Engines, drive & performance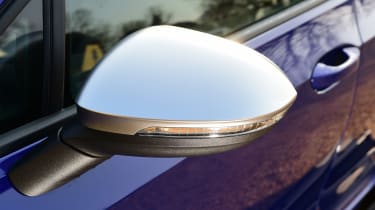 The Volkswagen Golf R Estate uses a familiar power set-up. It has a 2.0-litre petrol engine with a turbocharger and 316bhp and 420Nm of torque. It sends power to all four wheels through a seven-speed automatic gearbox.
This is very similar to the Cupra Leon Estate, plus many other models in the Volkswagen group range. The engine is used in various forms in loads of other cars, from the Skoda Octavia vRS to the Volkswagen Tiguan R.  
It's a very potent motor, and revs quickly and fiercely, yet it sounds rather dull as it does so. The Golf R pumps in fake engine noise to mask this, but this feature makes things worse and is best turned off through the car's settings menu.
The seven-speed DSG automatic gearbox shifts quickly going up, though it's a little sluggish coming back down through the gears again and can be a bit jerky at low speeds. It makes the driving experience very easy, though - you can just leave it in auto and go, or use the paddles behind the wheel to change gear manually.
The four-wheel drive system, called 4MOTION, also helps to make the car even easier to drive. It means that there's loads of traction, so the wheels rarely slip on the road surface. It helps the car to get up to speed from a standstill incredibly fast, but also keeps the car planted when cornering quickly.
Clever tech called torque vectoring also helps, as it sends engine power to the wheels that need it most. This is part of the R Performance Pack, which is an optional extra costing around £2,000 that also brings 19-inch alloy wheels, different steering and a larger rear spoiler.
The steering in all versions is less than perfect, unfortunately. It's great for driving around town, as it's nice and light and easy to use, but it isn't very sporty. You can't really feel anything about what the wheels are doing, so it means you feel a bit disconnected from the car when you want to drive quickly. It's another aspect of the Golf R that contributes to the feeling that it's incredibly technically impressive, but feels a little lacking in emotion. 
There's another option worth adding, which is the adaptive suspension. This isn't very expensive to add, considering how much difference it makes. You can drive in Comfort mode and enjoy a smooth-ish ride. It's not the most comfortable compared to normal family hatchbacks but it deals with bumpy roads well enough in this mode. Then you have the option of switching to Race mode - or choose a setting anywhere in between these two extremes - reducing how much the car rolls in bends. 
The VW Golf R Estate sits at the top of the Golf Estate range, so it's loaded up with standard kit. There's a 10.25-inch digital display behind the steering wheel (that can display everything you need including sat-nav directions and maps), plus VW's Discover Media system on the dashboard.
This is a touchscreen set-up that includes navigation, smartphone connectivity (Android Auto and Apple CarPlay) and other internet services. Unfortunately it's one of the worst aspects of the whole car - it's fiddly to use and since there are no physical buttons to control the climate control functions, you're forced to interact with it while driving in some cases.
Simple actions such as changing the fan speed are an exercise in patience in the Golf, as you try to aim your finger for the exact spot you need on the screen while you are going over bumps and potholes.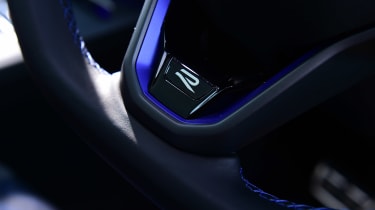 The cabin itself is a step down from the interior of the Mk7 Golf R Estate, which had a classier feel. The materials in the new model look a little cheap and aren't befitting of a car that costs as much as this. There are some nice touches, such as the sporty steering wheel in this model and R-branded sports seats, and the cabin is smartly designed - it's just the high price tag that makes it feel a little lacking.
Practicality & boot space
The Volkswagen Golf R hatchback is already a very spacious car and great for families, but if you need that bit more room without choosing a flashy, expensive SUV like the Tiguan R then the Estate version is ideal.  
It has loads of space in the back seats, as there's plenty of room even for adults. Legroom and headroom are both very good, and the seats are comfortable as well. The doors open wide enough to get car seats in and out easily, and there's Isofix as standard.
The Golf R Estate loses a little bit of boot space next to a lesser Golf Estate because it has four-wheel drive, which takes up a little space under the floor, but there's still a good amount - 611 litres. If you fold down the rear seats, this increases to a total of 1,642 litres, and there are bag hooks, lashing eyes and a 12v socket in the boot as well.
You can add a tow bar via the options list, which retracts via a button in the boot, and this can pull up to 1,900kg with a braked trailer. The boot is nice and low down, so it's easy to load up, and the lip is a useful shape so you won't have to do any excess lifting to get heavy things in and out.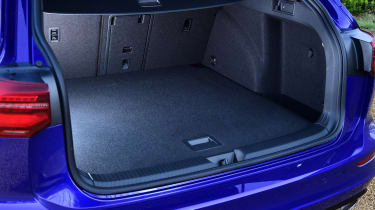 Reliability & safety
Needless to say, the Golf has a five-star Euro NCAP safety rating, inherited from the normal Golf. This is partly because of the crash test scores and partly because of the long list of safety assist tech, which is excellent in the top-spec R model.
This version comes with adaptive cruise control, auto high-beam LED lights, driver fatigue detection, road sign recognition, lane assist, traffic jam assist, lane change assist, autonomous emergency braking (AEB), parking sensors all round and all the normal safety features including stability control.
The new Mk8 Volkswagen Golf Estate was too new to appear in the 2021 Driver Power customer satisfaction survey but the regular Golf finished in 73rd place out of the top 75 models. 
Expect reliability to be similar to previous versions, though - the engine and a lot of the parts are really similar to the Mk7 version, which is generally reliable but can have some electrical issues. It remains to be seen if VW has ironed these out in the Mk8 model, as it's still very new.