VW ID.4 EV gets another electric motor and four-wheel drive in hot GTX form
It wouldn't have been right for Volkswagen to use the illustrious GTI badge on its new range of electric performance cars. That's not to say the ID.4 GTX isn't fun in its own right, it just lacks the character of its petrol-powered forebears. It's expensive, too; while a rear-wheel drive Ford Mustang Mach-E is better to drive and almost as fast. There is some work to be done on making the GTX nameplate as iconic as GTI, then – but if anyone can do it, VW can.
Volkswagen's world-famous GTI badge turned 45 this year. Celebrated since 1976 and having featured on a string of memorable performance Golfs, for many, its three letters define the hot hatchback genre.
But now VW is embarking on a new era – an era for the electric generation. All future Volkswagen EVs will feature the ID. badge; we've already seen the ID.3, ID.4 and ID.5, and there are electric saloons, superminis, and even MPVs on the way. 
Of course, in addition to the various bodystyles, Volkswagen also has a range of GTI-inspired electric performance models in the works. Not to be confused with their petrol siblings, these EVs will all use the GTX name – starting with this, the ID.4 GTX.
Building on the standard ID.4 electric SUV, the GTX gets an extra motor on the front axle, boosting total power to a not inconsequential 295bhp. The result is 0-62mph in 6.2 seconds and a top speed pegged at 112mph.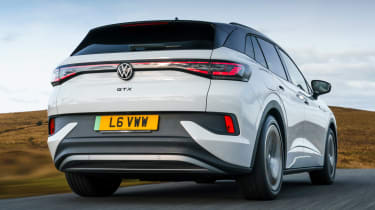 That last figure is significantly down on the capabilities of the current Golf GTI. Not that it'll matter to prospective buyers – spend much time hovering at or above the national speed limit and you'll see the projected 301-mile range plummet. During our time with the car on a mixture of rural, motorway and urban roads, we were seeing 220-230 miles on a charge.
Yet the big question isn't how far it'll go before the batteries run flat – rather whether or not it captures any of the GTI magic that Volkswagen has become so famous for. 
The short answer is no. The GTX isn't quite as agile as a Ford Mustang Mach-E, but that's not to say it's sloppy. The ID.4 offers adequate (if not spellbinding) performance, as well as decent-enough body control. The steering, if lacking a little in feel, appears weightier than on the standard car and is perfectly quick and direct. The brakes are up to the task of stopping this 2.2-tonne SUV, too – as you would hope.
Traction is also on point, allowing you to use that slug of torque to power out of tight corners with confidence. Our car was fitted with optional adaptive dampers, but we ended up leaving them in their default setting – in Comfort mode the GTX felt composed, whereas Sport gave the car an unsettled, bouncier ride. It's still more comfortable than a Mach-E, though.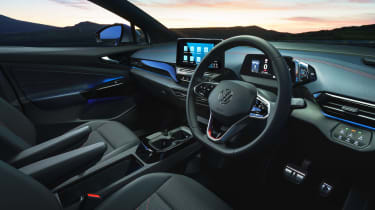 We may bemoan synthesised sound generators in diesel SUVs, but ultimately, with no soundtrack to enjoy in the ID.4, you're left feeling somewhat detached from the driving experience. That's ideal on the motorway, or indeed when you're pootling from A to B without a schedule to keep or deadline to meet, but when you're alone in the car and want to drive like the seat of your pants is on fire, the ID.4 GTX simply isn't that engaging. 
There's some work to be done on making the GTX badge fit in a driver's car context, then, but the rest of the package is as complete as you'd expect. Practicality is excellent – the 543-litre boot is unchanged from the standard ID.4, and there's space under the floor to store the charge cable. Note: a three-pin charger is a £180 option.
The cabin is roomy too, while quality takes a jump in the right direction thanks to new fabrics on the dashboard. The GTX-branded seats are supportive and comfortable; the only other tell-tale sign that this is the range flagship comes courtesy of the small badge and red flash at the base of the steering wheel.
Prices are high. The ID.4 GTX starts from £48,525 but for that you get 20-inch wheels, a 12-inch infotainment system with nav, plus wireless Apple CarPlay and Android Auto, as well as a head-up display, keyless entry and Matrix LED lights. Above this sits the GTX Max, adding a panoramic glass roof, three-zone climate control, adaptive dampers and a heat pump for around £7,000 more.
That infotainment system is still a bit laggy, and it's not the most intuitive set-up to use. The temperature sliders are fiddly too, and Volkswagen still refuses to light them at night – making them impossible to operate after dark. The instrument cluster on the other hand is simple but effective, de-cluttered by removing surplus information; the car's speed sits front and centre, just as it should.
| | |
| --- | --- |
| Model:  | Volkswagen ID.4 GTX |
| Engine: | 77kWh battery, two electric motors |
| Power/torque: | 295bhp/310Nm |
| Transmission:  | Single-speed auto, four-wheel drive |
| 0-62mph:  | 6.2 seconds |
| Top speed:  | 112mph |
| Range/Efficiency:  | 301 miles, 3.7mi/kWh (WLTP) |
| On sale:  | Now |