Pros
Fast
Quality interior
Lots of safety features
Cons
Expensive subscription service
Not much fun to drive
Feels derivative
The Volvo C40 Recharge is the brand's first model to be sold as an electric car only. While that might sound like a big step, in reality the vast majority of the car is derived from the existing Volvo XC40. The XC40 is a car we really like at Carbuyer but we had hoped the C40 would feel more distinct, given it's a new model for the brand.
It appeals if you simply see it as a coupe version of the XC40, in the same way that Audi has the Q4 e-tron and Q4 e-tron Sportback. But you'll need to be prepared to pay a hefty premium over the XC40 and finance the car through Volvo's subscription service.
The Volvo C40 is available with single motor (front-wheel drive) and twin motor (four-wheel drive) set-ups. The three available trim levels are Core, Plus and Ultimate (Core models are only available with the single motor.)
The range-topping Volvo C40 Recharge Twin models are the quickest, and like the XC40 Recharge T8 and the punchiest Polestar 2, you get 402bhp and a sub-five-second 0-62mph time, which is almost on a par with the Tesla Model Y.
Single-motor versions were introduced later on and are capable of 228bhp and a 0-62mph time of 7.4 seconds, but are intended as a more affordable way into C40 ownership. 
The electric motors are powered by a 69kWh battery (67kWh usable), giving a range of around 267 miles in standard models or a 78kWh battery (75kWh usable) for a range of up to 273 miles in Twin models. While we can't imagine many drivers will need more than that, the figure is a little short of what we'd expect given the size of the batteries. A less expensive Skoda Enyaq iV with a battery of the same size can do a maximum of 333 miles between charges.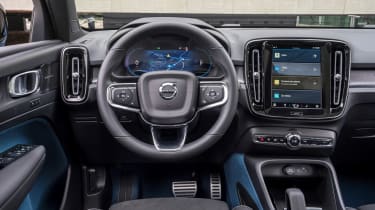 Inside, the C40 is typical of the current Volvo lineup. The nine-inch portrait touchscreen now runs Android Automotive software, which means that, instead of Volvo having its own sat nav system, you'll just use Google Maps, and it'll help with keeping everything connected too. Besides a few different trim selections, the C40 feels exactly the same in the front as the XC40.
Rear visibility is affected by a spoiler on the back of the car but otherwise practicality is reasonable; the back seats are still pretty spacious and the sloping roofline doesn't cut into headroom too badly. The boot is smaller than that of the XC40 but C40 buyers are unlikely to mind the compromise and there's no load lip to haul heavy items over. 
The C40 isn't class-leading in any given area and the price is higher than we'd like, starting at over £57,000. You can pay cash or take out a 'subscription' on Volvo's website. Those are your two choices and the subscription starts at a staggering £729 per month at the time of writing. Even directly comparing it to the XC40 Recharge T8, it's over £220 per month more.
 MPG, running costs & CO2
The Volvo C40 doesn't have the longest range but will be cheap to run
The Volvo C40 enters the market after a lot of its rivals, so its figures suddenly don't look so good compared to the Hyundai Ioniq 5, Volkswagen ID.4 and Ford Mustang Mach-E. It offers a maximum range of 273 miles, which is lower than all of the cars just mentioned. But that should be an accurate and achievable figure; our fully charged test car gave a 256-mile estimate.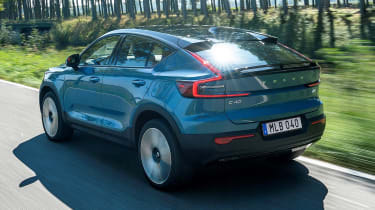 Fast-charging is supported at up to 150kW, so find a charger powerful enough and you'll be able to top up to 80% in around 40 minutes. Volvo recommends an 11kW three-phase charger for home use, which takes around eight hours to fully recharge the battery, but check your home is capable of accepting a three-phase charger; if it isn't, a 7kW wallbox will take a lot longer to top it up. 
Volvo's subscription service puts everything into one handy (albeit expensive) monthly payment, including VED (road tax) and MOT inspections, which sounds great until you realise that the car is free to tax because it's electric and the car will only need an MOT at the end of your 36-month contract. Servicing and maintenance is also included but again, this should be far cheaper than a petrol or diesel car. Volvo even says the electric motors are sealed for life and maintenance-free, so you may question the value-for-money of the subscription deal.
The subscription does include 30 days' insurance and the Volvo C40 Recharge sits in a high insurance group. Standard single-motor Recharge models range from groups 37 to 39 out of 50, while both Twin C40 models in Plus or Ultimate trim sit in group 43, so make sure to get a quote before you buy. It's worth noting that the Tesla Model Y is in the top group and will be even more expensive to insure, however.
Engines, drive & performance
Range-topping C40 Recharge Twin Pro is rapid without feeling sporty
At launch, only the range-topping Twin Pro version was offered. This is a familiar powertrain and features an electric motor on each axle to give four-wheel drive. The result is 402bhp and a 0-62mph time of just 4.7 seconds - and we suspect that figure is conservative.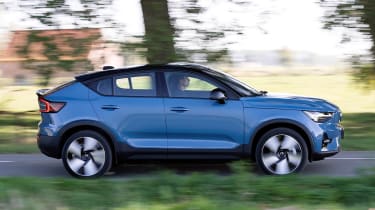 Not that the Volvo C40 Recharge Twin Pro is designed to be a sports car. The steering is light and short of feel, and picking one of the more dynamic driving modes doesn't add much excitement. As a result, it feels like the huge performance is a bit unnecessary, and perhaps even over-the-top. The C40 might make more sense when less powerful versions join the range later on. 
The C40 range diversified when the single-motor options were introduced later on, offering 228bhp with a 0-62mph time of 7.4 seconds. These less powerful versions may make more sense for some, with a starting price more than £10,000 cheaper than Twin models.
On the move, the C40 is calm and composed over rough, broken surfaces but a little fidgety on smooth sections of road. Wind noise is most noticeable at motorway speed but shouldn't be irritating, even if the Audi Q4 e-tron is quieter still.
Interior & comfort
The high-tech cabin is calm and familiar, and the infotainment system impresses
Step inside the car and you could be in any current Volvo. That's not a bad thing because it feels high-quality and calmer than some German interior designs. To improve sustainability, there's no leather anywhere in the cabin, and there's no starter button either. Simply get in and select 'D' and the C40 will set off when you lift off the brake.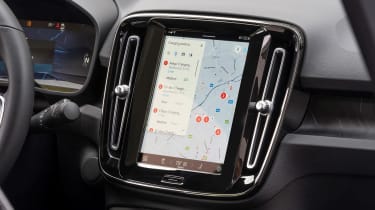 A nine-inch touchscreen is included, running a new Android Automotive software package. Volvo graphics hide a Google package, with Google's apps being used for things like navigation and speech recognition. It works really well and is an improvement on Android Auto - and not just because you don't have to plug your phone in. 
Other standard equipment includes a digital instrument cluster, a Harman Kardon stereo system and LED headlights.
Practicality & boot space
Coupe roofline cuts into space but the C40 doesn't feel cramped
Coupe SUVs like the Volvo C40 offer extra style at the expense of practicality, so buyers will be prepared for it to be slightly less spacious than the standard XC40. The C40 is still a practical car, however, with enough headroom in the rear seats and plenty of legroom too. You won't be able to see much out the rear window but the standard XC40's chunky rear pillars mean that car suffers from compromised rear visibility as well.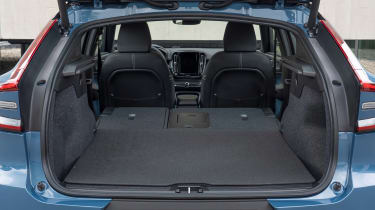 The interior includes a good selection of big storage compartments and cup holders, and the boot space is reasonable at 413 litres - about the same as a Ford Mustang Mach-E. The Volvo scores extra points for its wide boot opening and how easy it is to load bulky items, which is helped by the absence of a load lip; the boot floor is at the same level as the bottom of the tailgate. There's also a front trunk under the bonnet, providing extra storage and an easy place to store your cables. We'd like all electric cars to come with a 'frunk' but some, like the Volkswagen ID.4, don't. 
Electric cars can't often tow but the C40 can haul a braked trailer weighing up to 1,800kg. That's a decent figure for any car, let alone an electric one, so it'd be absolutely fine to tow a caravan or even a smallish car on a trailer.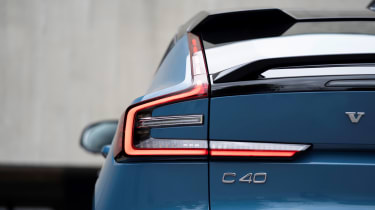 Reliability and safety
Lots of parts-sharing means issues should already have been ironed out
Volvo is known for the safety credentials of its cars and the C40 should be no different. The mechanically similar Volvo XC40 scored the maximum five-star score, with an impressive 97% rating for adult occupant protection. A wide range of driver assistance systems are available, including lane-keeping assist, blind-spot monitoring, an alert that warns you if anything is crossing behind you when you reverse, and autonomous emergency braking that can detect vehicles, pedestrians, cyclists and large animals. A 360-degree parking camera will also make it easier to get in and out of tight spaces.
While the C40 hasn't appeared in our Driver Power owner satisfaction survey yet, the XC40 has, and in 2021 it achieved a stellar eighth-place finish out of the top 75 cars rated. Besides running costs and value, every other aspect was rated highly, including the interior and safety features. Volvo also scored a top-10 finish in our run-down of the best brands, although over a fifth of owners reported faults in the first year. That's a little worrying but the XC40's good score for reliability may suggest that most problems were minor niggles and glitches, rather than major issues.